Leaders' Message
We contribute to sustained progress for our customers and society through the pursuit of "human-centered automation."
Since our establishment in 1906, we have focused on measurement and control technologies, delivering unique solutions to our customers. Our evolution having taken us from the idea of controlling machines to the idea of creating fulfillment for people, we now strive to realize work styles and lifestyles that give people a sense of safety, comfort, and fulfillment as well as to contribute to benefit the global environment in our quest for "human-centered automation."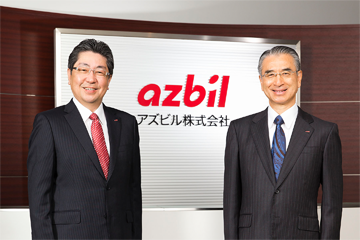 Seiji Onoki, Chairman(right)
Hirozumi Sone, President and CEO(left)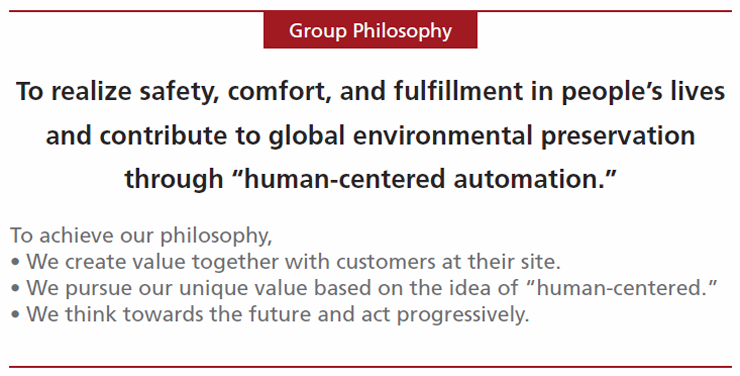 Under this philosophy, we set a goal of becoming recognized as a "top class global automation enterprise" and long-term targets of net sales of ¥300.0 billion, operating income of ¥:30.0 billion or higher, and ROE of 10% or higher by the year ending March 2022. As the first step in this process, we established a four-year mediumterm plan, which will take us through the year ending March 2017, the 110th anniversary of the Company's founding. Guided by plan, we have been advancing our operations based on three initiatives as follows:
Becoming a long-term partner for the customer and the community by offering solutions based on our technologies and products
Taking global operations to the next level, with global expansion by moving into new regions and making a qualitative change of focus
Becoming a corporate organization that never stops learning, so that it can continuously strengthen its corporate structure
Today, the azbil Group focuses on new market needs of energy management and safety in its three core business segments: Building Automation, Advanced Automation, and Life Automation. Adhering to this strategy, we are targeting steady growth while pursuing reforms to address the rapidly changing business environment.
For the year ended March 31, 2015, although there was an uncertain outlook for overseas economies including the low price of crude oil, political instability, and deceleration of growth in emerging countries, the Japanese economy saw steady expansion of demand for energy efficiency, comfort, and safety in accordance with changes of social structure, as well as effects of "Abenomics" and developments toward the Tokyo 2020 Olympic and Paralympic Games. In response, we will closely monitor the changing business environment and adopt a global perspective in both domestic and overseas operations. Working close with customers, we will strive to give them new levels of value and resolve a broad range of issues. We will forge ahead as a unified corporate group that contributes to sustained progress for the customer and society.
July 2015

Seiji Onoki
Chairman
Azbil Corporation

Hirozumi Sone
President and Chief Executive Officer
Azbil Corporation