Daesung Industrial Gases Co., Ltd.
Stable plant operation spanning 20–30 years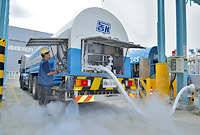 Some of the industrial gases produced at the Ulsan Plant are supplied to the petrochemical complexes of DIG's customers via pipelines, and some are liquefied at ultralow temperatures and delivered by tanker trucks.
Ulsan is one of the largest industrial cities in South Korea, a place where many petrochemical complexes can be seen. The Ulsan Plant, which is owned by DIG, supplies the neighboring petrochemical complexes with industrial gases such as oxygen, nitrogen, and argon, via pipelines and tanker trucks. The plant actually consists of two main plants: the first built in 2008, and the second rather recently in 2012. Both use Harmonas-DEO™, Azbil's monitoring and control system, as a DCS,*2 and are equipped with a wide variety of Azbil-made peripheral equipment, including instrumentation and control valves.
"Azbil provides very reliable products and 24/7 maintenance support services for our plants," says Hee-Chan SEO. "For the air separation process, in particular, good control valves that can endure low temperatures are absolutely necessary. We think that having the high durability needed to meet this kind of requirement is one of the unique strong points of Azbil's products."
"In many cases," adds Myung-Shik CHOI, "the equipment and devices in our facilities continue running for 20 to 30 years. When we choose the products we are going to use, we place importance on their robustness. We look to see whether they could work properly for a long time with a minimum of maintenance. The superb durability of Azbil's products has provided our on-site staff with considerable peace of mind."
According to DIG, Azbil has contributed to a great extent to the operation of the Ulsan Plant by providing technical skills and support services in the areas of engineering and maintenance.
"Whenever we urgently need help on-site with any piece of equipment or the control and monitoring system," says Seok-Jin KIM, "Azbil's staff always responds quickly and deals with each issue from the customer's point of view. And when they are on-site, Azbil's personnel make efforts to pass on their high level of technical know-how to our operators, helping them to build their skills, which we are also really thankful for."
In recent years, DIG has been working to upgrade aging plant equipment, some of which has been in active service for over 30 years now. "The main purpose of this upgrade of devices and equipment at our plants is to seek added value such as increased automation and higher reliability," says Mr. SEO. "By introducing the latest equipment, which we obtain from Azbil, we think we will accomplish this purpose."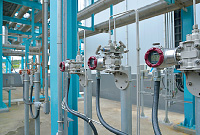 The SuperAce™ AT9000 Advanced Transmitter for pressure and differential pressure is used in the air separation process of gas production.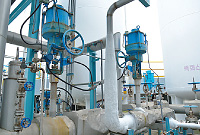 HTS top-guided single-seated control valves can endure the low temperatures of the air separation process. Equipment that controls liquefied oxygen at −190 °C must have high durability at super-low temperatures. Due to the ultralow temperature liquid, part of the piping is covered with frost.
These case studies were published in the 2015 Vol.1 issue of the azbil Group's corporate magazine, azbil.