Honda Motor Co., Ltd.
Saitama Factory Yorii Automobile Plant
Seeking the best equipment layout to properly control combustion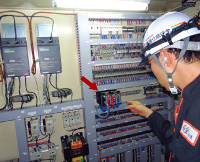 Combustion facilities are safely controlled by burner interlock and burner control modules programmed to execute a combustion process compliant with revised JIS regulations.
Honda first compared the new JIS regulations and its explosion and fire safety standards, and then began deliberations on introducing systems and equipment that would make its combustion control functions compliant with the revised standards. As a result, the company decided to incorporate Azbil's combustion safety system, which uses burner interlock and control modules, into Yorii's paint booth air conditioning, paint drying, and deodorization facilities.
"At that time, Azbil had begun providing products and solutions that met the revised JIS regulations before the rest of the industry. Also, since we were already using Azbil's combustion monitoring system at the Sayama Automobile Plant, we had confidence in Azbil," says Mr. Ito.
The work of installing the new combustion safety control system began, in order to meet the schedule for startup of the Yorii Automobile Plant. However, various difficulties had to be overcome before the start of plant operation.
"By installing Azbil's system and executing its program, we were able to control the facilities according to the new JIS regulations, but the installation of the gas units and valves had to be examined carefully in order to control them properly. We were confronted with some problems; for example, when starting the furnace, the burners did not ignite well because of the timing, which was due in part to timer settings that were made with safety in mind," explains Mr. Kogo.
Thereafter, Honda revised the installation of its devices through trial and error, adjusting their physical positions to achieve proper system operation.
"Although it took a half year just for the adjustment work, because we had to apply the same process to 8 air conditioners and 16 furnaces, the plant began operation on schedule. Right up until the start of the plant, Azbil always assisted us promptly by, for example, quickly sending engineers to the site when requested," says Mr. Ito.

These case studies were published in the 2018 Vol.1 issue of the azbil Group's corporate magazine, azbil.