Subaru Corporation Gunma Oizumi Plant
Standardizing on Azbil TA's mist lubrication unit to Solve Lubrication Unit Problems
Factories 1 through 4 were using two different types of lubrication system, grease lubrication (grease-prefilled bearings) and mist lubrication (spraying of a lubricant as needed), to reduce frictional heat and wear in the bearings of the main spindle (for rotating a tool) in machine tools such as a machining center*1 for molding and processing a product. The mist lubrication units being used were provided by Azbil TA Co., Ltd.
"With grease lubrication, prefilled grease decreases due to aging, which often causes problems such as sudden locking of the spindle. To refill the grease, the spindle and bearing have to be replaced, which results in stopping the equipment," explains Atsushi Kurashina, a group manager in the Factory 1 Maintenance Group.
In view of this situation, the Oizumi Plant decided to standardize machine tool-related specifications when establishing the fifth factory. Based on the results from Factories 1 to 4, Azbil TA's mist lubrication unit was adopted as a standard because this highly durable system lubricates properly, with fewer machine tool breakdowns. With the mist lubrication unit, the problems associated with grease lubrication were solved. Currently, more than 1,000 Azbil TA's mist lubrication units are running at the five factories.
However, another problem arose, which was the maintenance of the lubrication units.
"Machine tool breakdowns due to lubrication failure directly cause factory equipment to stop. This causes a delay in the supply of engines and transmissions to the body factories here and overseas, eventually leading to a delay in delivery to customers. How to properly maintain over 1,000 lubrication units became a new matter for us to consider," says Mr. Saeki.
In response to a request from the Oizumi Plant, Azbil TA proposed a service providing regular inspections, maintenance plans including replacements, and identification of lubrication units where there is a problem or where warning signs are found. The Oizumi Plant immediately decided to accept the proposal.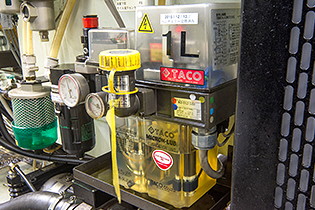 An Azbil TA's mist lubrication unit, incorporated into a machine tool, sprays lubricant on a spindle and bearing.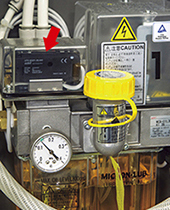 An Azbil Corporation photoelectric sensor monitors oil dropping to the venturi of Azbil TA's mist lubrication unit.
These case studies were published in the 2019 Vol.1 issue of the azbil Group's corporate magazine, azbil.