Aqua Planet Jeju
Aqua Planet Jeju
Aqua Planet Jeju, which opened in July 2012 in Jeju Island, Korea, is the largest aquarium in Asia in terms of size and the number of aquatic animals on display. To keep a stable water temperature in the exhibit tanks, the aquarium introduced a life support system (LSS), which is maintaining an optimal environment to sustain the health of its aquatic inhabitants that are vulnerable to temperature change.
The importance of precise control of water temperature appropriate for the aquatic species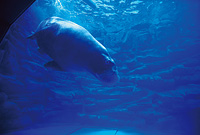 Jeju Island is located in the southernmost part of Korea. Owing to the warm Tsushima current that flows along its coast, Jeju Island is blessed with the mild climate in Korea where winters are bitterly cold, so the island is called as the "Hawaii of Korea" and is well-known as a resort destination visited by tourists from Japan as well as many domestic travelers.
Opened July 2012 on the east side of Jeju island, Aqua Planet Jeju is one of the largest aquarium in Asia. There are 11,000 tons of water exhibit tanks built in two stories and one story below ground, and approximate 58,000 aquatic animals and over 500 different kinds of species mainly come from the ocean around Jeju Island. The aquarium is operated and managed by Hanwha Hotels & Resorts Co., Ltd., a company of the Hanwha Group in Korea. The Hanwha Group is globally engaged in three major sectors: manufacturing / construction, finance, and services / leisure; and Hanwha Hotels & Resorts is positioned at the core of the services / leisure sector.
Mr. Park said: "Controlling the water temperature in the exhibit tanks is the most critical point for operating an aquarium. Particullary, fish living in cold waters with an average temperature of 10 to 15 degrees C are extremely sensitive, and even a slight change in water temperature will cause tremendous stress. If the water temperature is not controlled precisely, the fish will become sick, and in some cases might even die."
This case study was published in the 2013 Vol.3 issue of the azbil Group's corporate magazine, azbil.