Aqua Planet Jeju
High evaluation of Azbil's proven track record in automated control of aquariums
An important topic in constructing Aqua Planet Jeju was how to build the life support system (LSS)*1 , consisted of the heat source equipment and monitoring and control system for maintaining the appropriate water temperature in the display tanks continuously. Hanwha Hotels & Resorts selected Azbil Korea, an overseas affiliate of Azbil Corporation, as a partner for building the LSS.
Hanwha Hotels & Resorts is building and operates many aquariums throughout Korea. One of them is 63 Sea World in the 63 City building, a landmark of Yeouido, Seoul. The LSS for this aquarium was equipped with Azbil products, which were chosen for their high performance.
Mr. Ju said: "Previously, 63 Sea World used Azbil analog controllers for water temperature control. In 2008, when we decided to replace the analog controllers with digital controllers, we chose Azbil for, which are maintaining a stable water temperature in the exhibit tanks. So, in building the LSS for Aqua Planet Jeju, we highly evaluated the strength of Azbil products. Furthermore, we had much confidence in the azbil brand, which has a proven track record in the automated control of aquariums."
Additionally, in order to introduce best practices of aquariums to key members of Hanwha Hotels & Resorts, Azbil Korea planned site visit to major aquarium in Japan. Getting confidence through the performance of total Azbil solutions, services, and support, Azbil Korea has been chosen as a partner of Hanwha Hotels & Resorts aquariums construction.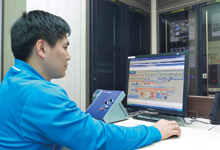 The monitor terminal of the savic-net FX installed in the central monitoring room. Enables centralized monitoring of water temperature, etc. in the exhibit tanks.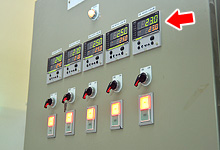 Digital indicating controller. Controls water temperature according to measurements by temperature sensors, etc.
This case study was published in the 2013 Vol.3 issue of the azbil Group's corporate magazine, azbil.