Mandarin Garden
A large-scale multipurpose building complex called Mandarin Garden has recently been completed in the Vietnamese capital, Hanoi. Designed and constructed to achieve advanced facility quality and provide high levels of safety, convenience, and comfort, the project has successfully achieved integrated management of all facility equipment by installing Japanese-quality equipment, devices, and systems, as well as an integrated management system. Among facilities of its type in Vietnam, Mandarin Garden is regarded as one of the most advanced in its functions.
"Japanese quality" was sought for facility safety, security, convenience, and comfort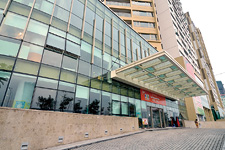 Mandarin Garden has a kindergarten and a fitness club to serve community needs.
Occupying the eastern part of the peninsula of Indochina, the Socialist Republic of Vietnam is a long narrow country, measuring approximately 600 km in width in the east-west direction and stretching for about 1,650 km in the north-south direction. Although Vietnam is a socialist state, in 1986 it initiated its Doi Moi ('reform') Policy with the aim of creating a market economy and opening its markets to the world. Since then, the country has been energetically promoting structural reforms for the purpose of attracting foreign investment capital. Consequently, Vietnam has been enjoying continuously high economic growth since 2000.
The Hoa Phat Group is a leading corporate group in Vietnam that conducts a variety of business activities, including steel production and manufacture of furniture and construction materials. In 2001 the Group launched a real estate business and now owns many commercial facilities and industrial parks used by foreign companies.
Mandarin Garden, which was constructed by the Hoa Phat Group, is a multipurpose building complex located on Hoang Minh Giam Street in the central western part of Vietnam's capital of Hanoi. The total area of Mandarin Garden is 25,886 m². There are 9 high-rise buildings on the premises, each with 2 basement levels and from 21 to 29 above-ground levels. Located in these buildings are residential units, schools, commercial establishments, athletic facilities, and others.
"In constructing Mandarin Garden, we aimed to achieve advanced facility quality and provide high levels of safety, convenience, and comfort that will be appreciated by residents and tenants," says Mr. Nguyen Viet Thang, Deputy General Director of Hoa Phat Group. To select a contractor for the system that would provide integrated management of facility equipment, in early 2012 Hoa Phat Group asked vendors to submit proposals. After an extensive examination of the submissions, the Group chose Azbil Vietnam Co., Ltd. Hoa Phat's head office building is equipped with Azbil Corporation's building management system, savic-net™FX, which Hoa Phat rates highly for its management of equipment and energy. This was undoubtedly taken into account in opting for Azbil Vietnam. "I have used numerous Japanese products and always appreciated their high quality. Azbil has a long track record of over 100 years in the Japanese market. Azbil Vietnam's proposal based on that extensive experience stimulated our expectations for 'Japanese quality', not only in terms of superior products and systems, but also for training of operators," explains Mr. Nguyen Viet Thang.
This case study was published in the 2014 Vol.4 issue of the azbil Group's corporate magazine, azbil.