Narita International Airport Central Heating and Cooling Plant
Dramatic Reduction of Heat Production Costs without Decreasing Heat Supply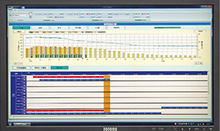 The utility optimization software package determines when to start and stop the heat source equipment by making calculations based on weather forecast data. It also shows predicted and measured temperature values, and charts of the planned and measured amounts of heat production.
It was Azbil Corporation, early in 2012, that proposed a way to save energy at the central heating and cooling plant. According to the proposal, adding a utility optimization software package to Advanced-PS™, which is used as the DCS 1 for monitoring and controlling the heat source equipment, would provide heat production cost savings without decreasing the heat quantity supplied from the central heating and cooling plant to each facility.
"A general energy-saving measure to decrease the heat supply to each facility would have an impact on the comfort of customers and employees," comments Mr. Kondo. "In this respect, Azbil's proposal, which would raise heat production efficiency without changing the supplied heat quantity, made good sense for our facility management."
"Azbil's proposal allowed us to use the existing monitoring and control system so that large-scale upgrade work was not required, which we valued as well," adds Shugo Ohba of the Facilities Management Department. "Furthermore, it was an ESCO project. 2 For that reason it did not require a large initial investment, but achievement of the preset target was guaranteed, which was a big attraction for us because we could minimize the investment risk."
Narita International Airport adopted Azbil's proposal and introduced the utility optimization software package to the existing facilities in 2013. In April 2014, service began based on the 5-year ESCO contract.
* Advanced-PS is a trademark of Azbil Corporation.
These case studies were published in the 2018 Vol.3 issue of the azbil Group's corporate magazine, azbil.