MERRY PROJECT
A partner who seeks people's happiness
Since 2011, Azbil Corporation has been working with the MERRY PROJECT, which tries to share what makes people MERRY, together with raising awareness and appreciation of the Earth.
Holding out its ideal of people's safety, comfort, and fulfilment as well as preservation of the earth's environment through human-centered automation, the azbil Group strives to contribute to happiness by paving the way to the future.
The MERRY PROJECT askes a simple question, "What is MERRY for you?" and gathers photos of smiling faces and messages from around the world. Azbil and the MERRY PROJECT are different in their approaches, as Azbil uses automation while the MERRY PROJECT uses photos, but they have the common goal of contributing to people's happiness, so they work together as partners to make their vision come true through a variety of activities.

Smiles of merriment gathered from around the world appear on the cover page of Azbil's corporate magazines.

Photos from the MERRY in Bangladesh campaign make up the cover page of a notice of the ordinary general meeting of shareholders.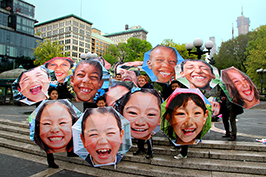 In May 2016, Azbil sponsored the MERRY in New York fundraising campaign after the 2016 Kumamoto Earthquake.
MERRY PROJECT Leader Koji Mizutani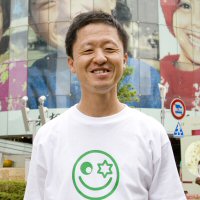 It is a dynamic world that we live in today, with major problems occurring one after another: environmental problems, economic crises, etc. Many people are struggling, and so society is increasingly filled with negative sentiment.
Many of us have lost confidence.
However, each of us is responsible for designing ourselves and our businesses for future happiness.
For people's sake, for society's sake, and for the Earth's sake, the time for designing is upon us.
It is important for every one of us to believe strongly that we can do something to make the people living on this planet happy.
Working on behalf of individuals, society, and the Earth, and a future filled with smiling faces, the MERRY PROJECT, using the power of smiles, and Azbil, using the power of automation technology, work together to make the world a happier place.
Taking photos of everyone with a happy face and filling the world with happiness are my aspirations, because I believe that nothing is stronger than the power of smiles. The smile is the most effective weapon in the world.