A System for Accurate Real-Time Detection of Microbes in Water
IMD-W™ Instantaneous Microbial Detection System for Water
In keeping with its "human-centered automation" ideal, Azbil believes that developing effective, advanced new measurement technologies to meet the needs of customers is one of its missions. No surprise, then, that it has recently developed the IMD-WTM Instantaneous Microbial Detection system for water using a revolutionary technology for detecting and counting waterborne microbes. This technology is attracting interest from the pharmaceutical and food industries, which need highly purified water with microbial concentration kept within specified limits. The new method complements existing methods of culturing microbes, which require several days to achieve results.
Background and Needs
Increasing need for faster results than the existing time-consuming and labor-intensive water bioburden detection method
In manufacturing processes for pharmaceutical drugs, cosmetics, and food, as well as in cleaning processes for medical devices, highly purified water is used. Microbes are one type of impurity that should not be present in water for such applications.
It is well known that microbes can be cultured even in water that has been purified and filtered through various processes of distillation and sterilization, once that water is stored in tanks or circulates through pipes, and thus, it is necessary to monitor water constantly to ensure that microbes are not proliferating.
The most widely used method for bioburden testing is microbial culture (Fig. 1) using agar media. This method requires several days to obtain results[*1 ],since it takes time for microbes to be cultured, and afterwards, it is necessary to count them.
For this reason, the pharmaceutical and food industries, where strict control of water quality is required, have asked for the development of a fast microbial detection method with the same level of accuracy as the culture-based method.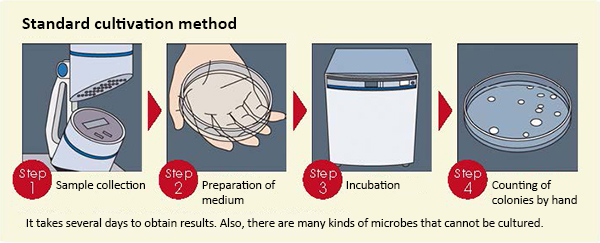 Fig. 1. Culture-based bioburden testing
[*1] Microbial testing of water for pharmaceutical use is defined in Japanese Pharmacopoeia, according to which, culturing lasting from 48 to 72 hours is required when using general agar media, and from 4 to 7 days of culturing is required when using low-nutrient R2A agar media.
Key Innovations
Real-time detection has been made a reality by the application of laser-induced fluorescence technique.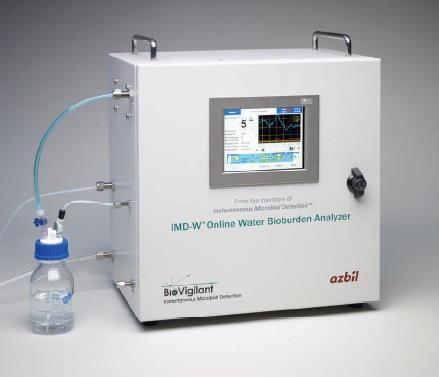 Appearance of IMD-W(W470mm×H464mm×D318mm)
Azbil has developed the IMD-W real-time microbial detector for water, which can meet the need for accurate and fast detection of waterborne microbes.
Organic substances, such as metabolites and proteins, within the cells of microorganisms have the characteristic of emitting faint fluorescent light when illuminated by a laser light of a certain wavelength. Their molecules are excited (resulting in energy transition), emitting a fluorescent light with a different wavelength than that of the applied laser light. Azbil focused on this fluorescence reaction of microbes and began developing a new method to optically detect microbes in water based on the wavelength and intensity of the fluorescent light emitted by particles.
The revolutionary IMD-W system can instantaneously and continually detect microbes in water. The system is capable of detecting microbes, fungi, and spores approximately 0.05–10 μm in size (Fig. 2). Analysis is done by simply running the water through the device, so there is no need to use consumables like reagents. Moreover, since there is no need for processes such as sampling, culturing, and dyeing, and therefore no need for human intervention during the analysis, there is basically no risk of cross-contamination.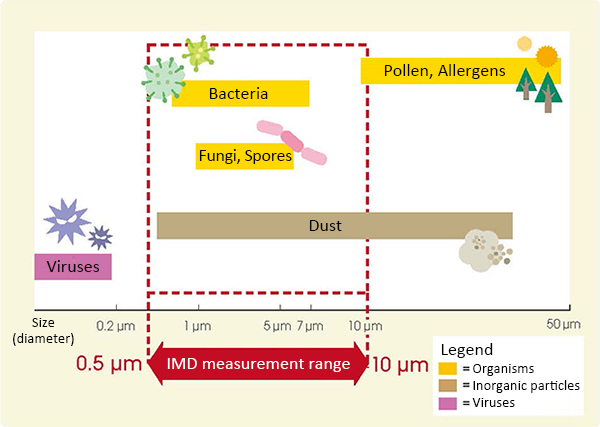 Fig. 2. The scope of substances the IMD system can detect
Original development of an optical system and algorithm for identifying differences in the fluorescence spectrum
The two main technical points in developing IMD-W system are as follows.
Development of the flow channel and optical system


Tested water may contain various particles other than microbes, such metal oxide particles produced from erosion of pipes, and resins from gaskets and pumps, some of which can fluoresce. In order to detect microbes without error, it is necessary to optically separate microbes from other particles.

Azbil has measured the fluorescence characteristics of microbes and other particles within water and discovered differences in their fluorescence spectra (intensity distributions of fluorescence wavelengths). Based on its experiments, Azbil has developed a proprietary algorithm for separating microbes from particles in water by first measuring the scattered light from microbes and particles and the intensity of fluorescent light in two different types of wavelength band, and then combining the information from these three light signals.

Fig. 3. Difference between microbes and resin particles in fluorescence reaction (left). Conceptual diagram of three-channel signal mapping for identifying microbes (right)

Development of the flow channels and optical system


Since microbes in water emit only an extremely faint fluorescence, Azbil has developed a new optical system and flow channel (Fig. 4) in order to efficiently apply the excitation light to microbes and detect the light emitted from them with photoreceptors.

As the photoreceptors, photodiodes were adopted for the high-intensity scattered light and photomultiplier tubes for the low-intensity fluorescence. For the flow channel component, in order to transmit the light emitted by particles when they are struck by excitation light to the photoreceptors, the company developed a sampling channel (flow cell) made of transparent materials. With specially curved surfaces, these flow cells can suppress internal reflection and transmit light efficiently.

Fig. 4. Diagram of IMD-W optical system
Results and Future Prospects
Close correlation with culture-based detection results confirmed, with excellent detection sensitivity
After examining seven main types of microbes existing in water using both the IMD-W system and a culture-based method, a reliable correlation between results was confirmed (Fig. 5).
Also, in testing to differentiate microbes from other particles, the IMD-W system achieved a 98 % positive identification rate for three types of microbes and 89 % for nonbacterial particles of rubber packing materials, gasket materials, etc. (Fig. 6). Moreover, it is characterized by extremely high sensitivity, detecting in a wide range from 1 to 50,000 units per 100 ml.
Azbil is confident that the IMD-W system not only can serve as a quick alternative to culturing-based methods, providing a way to continuously detect microbes in real time, but also can replace them in the future.
It is also possible to connect the IMD-W system to a monitoring system to instantaneously present the data on the number of microbes as it changes over time in graphic form, so that problems with water quality or water facilities can swiftly be detected.
The company continues to make the most of its unique knowledge in providing pharmaceutical, food, and water treatment industries with IMD-W systems and solutions that incorporate it.
Fig. 5. Comparative analysis of typical IMD-W measurement results (microbe counts) and the results of methods based on culturing (counting the number of colonies).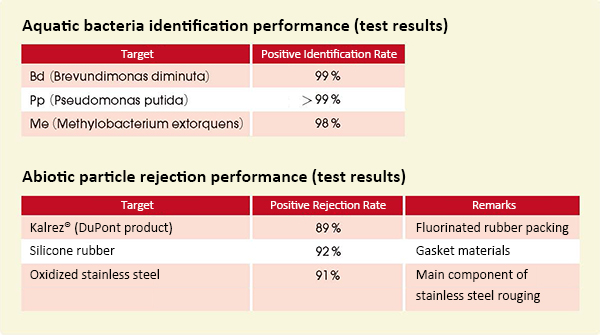 Fig. 6. Positive microbial identification rates and positive nonmicrobial rejection rates.
*Handling of products and services described in "azbil techne" may differ by country or region.
azbil Technical Review
Technology for Real-Time Detection of Microbes in Water