Azbil's Production Subsidiary in Dalian, China to Construct New Factory Building to Expand and Strengthen Global Production
TOKYO, Jul. 9, 2020: Azbil Corporation (Tokyo Stock Exchange Code: 6845) announced that Azbil Control Instruments (Dalian) Co., Ltd., Azbil's production subsidiary in Dalian, China, will construct a new factory building to further expand the volume of and strengthen global production as part of Azbil's business expansion worldwide. Construction is scheduled to be completed in 2022.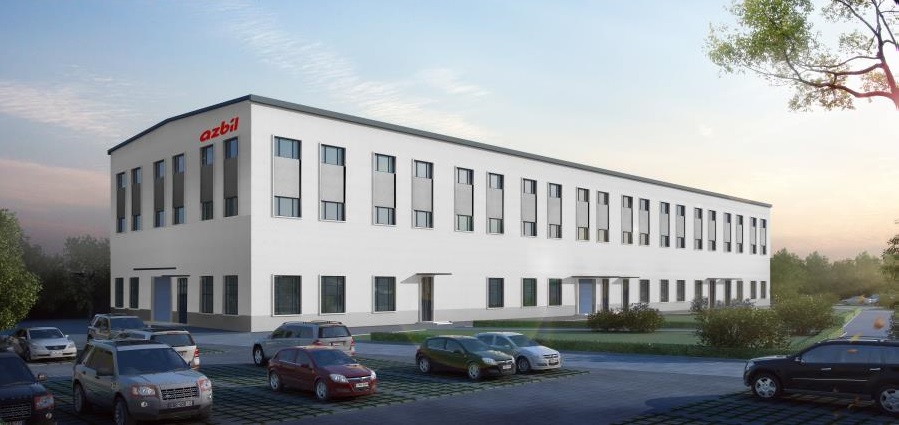 An illustration of the new factory building
The azbil Group established Azbil Control Instruments (Dalian) in 1994 as its first overseas production base and then followed with the establishment of Azbil Production (Thailand) Co., Ltd. in 2013. Then in 2019, with the aim to strengthen global production, Azbil coordinated the capabilities of its Shonan factory with those of its Fujisawa Technology Center, the company's R&D facility, into a "mother factory"—a factory whose processes can be applied as best practices to other factories. The company is building up the three production centers in Japan, China, and Thailand. In terms of overall production, overseas sites accounted for 11% of Azbil's production volume in 2011 and approximately 25% in 2019. Azbil is looking to increase that to 35% in 2025.
Azbil Control Instruments (Dalian) has steadily improved its production capabilities in the quarter century since its establishment. It produces a high-mix low-volume array of mechanical products that require advanced manufacturing ability, such as industrial control valves, valve positioners, and limit switches. The subsidiary is positioned as an important base for producing and shipping products especially to the growing Chinese market.
The aim of the new factory building is to improve production capability that can respond to increasing global demand as well as make production processes more advanced and even more automated. As one of Azbil's main production bases, the subsidiary will play a role in strengthening the azbil Group's global production.
Overview of the new factory building
Building area
8,500 m2 total (three floors)
Total floor area
21,000 m2
Total cost
46 million yuan (700 million yen)
Completion
Early 2022
Production
Assembly and painting of industrial control valves,
assembly of valve positioners
Figures are approximate.
Guided by the azbil Group philosophy of "human-centered automation," Azbil will continue to develop and provide products and services that meet customers' needs in order to contribute to a better society.
* Posted information is accurate as of the date of announcement.