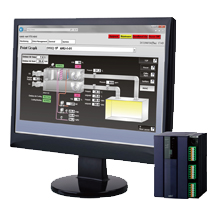 savic-net™FXmini
A simple and compact BMS that best fits your building's needs

savic-net™FXmini is a BMS (building management system) managing 500 points.
Environmental considerations such as energy use management and CO2 emission reduction are strongly required for buildings today. savic-net FX mini not only offers the features (easy operation using web-based browser, flexible and expandable system, etc.) of our savic-net FX BMS, but visualizes the energy use (conversion in crude oil consumption) and CO2 emission of a whole building.
Building energy management task will be thus supported in addition to building equipment monitoring task.
Feel free to contact us for consultation or inquiries regarding these products.
Online Inquiries
Inquiry Form