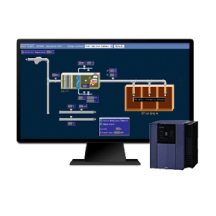 savic-net™FX
Building Management System
Touch Asian Breeze
Azbil Corporation, as A Comprehensive BMS Manufacturer,
Can Provide Wide-ranging Highly Reliable Products of Its Own Brands
Management Level
Optimal Decentralized System with Five Different Types of Servers
System Management Server(SMS)
Used for checking operational state of the System Core Server and DDCs (Direct Digital Controllers)
Data Storage Server(DSS)
Used for data management for Data Point records and daily/monthly/annual reports
Management Integration Server(MIS)
Integrated SMS and DSS into one unit for the system of 5,000 or less objects

System Management Server /Data Storage Server /Management Integration Server
System Core Server(SCS)
Used for controlling DDCs and delivering Data Point information to SMS and DSS

System Core Server
Energy Data Server(EDS)
Used for building energy management
Energy Data Server
Automations Level
Latest Controllers Ensuring Smarter Facility Control
Infilex™ Series
With latest control methods, Infilex series achieve energy saving and high precision control simultaneously.
A small sized, space saving design.
GC/GD is designed to have a great capacity, allowing control of 99 points maximum. One unit is capable of supporting operation of more than one facilities.
Reasonable options for different kind of users ranging from general users to operators are available, offering optimized operation environment for each kind of users.

Infilex GD / Infilex GC

Infilex ZM

Infilex AC

Infilex FC

Infilex VC

PARAMATRIXTM
Field Level
Handy Control Panels for Building Users
Neopanel, Neoplate, Operator Panel
These simple and sophisticated control panels enable building users easy to control on/off, set temperature/humidity, and extend operating hours of Heating, Ventilation, and Air Conditioning (HVAC) system.
We have two types of AC controllers: Neopanel (digital) and Neoplate (analog). You can select ones fitting to users and room furnishings. We also have optional line-ups for direct control of the control units to meet users' needs.

Digital AC controller Neopanel

Analog AC controller Neoplate
Operator Panel
Valves and Sensors Increasing Reliability as azbil Original Brand
ACTIVALTM and High Precision Sensors
Responding to signals from temperature/humidity sensors, valves control water and air flows with high accuracy.

ACTIVAL Flow Measurement and Control Valve

ACTIVAL

Insertion sensor

Neosensor
Feel free to contact us for consultation or inquiries regarding these products.
Online Inquiries
Inquiry Form