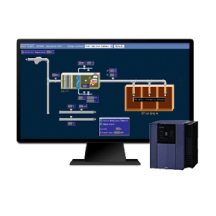 savic-net™FX
Building Management System
Touch Asian Breeze
Open Architecture
-For Operating Cost Reduction
BACnet, LON®, Modbus™
An open-architecture platform employed in savic-net™FX enables integrated facility operation as well as data sharing, thereby enhancing labor performance of monitoring staff and enabling operating cost reduction.
At Any Time, From Any Place
-Advanced Remote Monitoring / Operation System
As long as intranet or VPN access is available, you can monitor/operate building facilities using your mobile PC regardless of time and place.
You can access the system from your home, office, or any other places away from the control room.
Remote operation saves much time, enabling efficient use of operator time.
As long as IE is installed, any type of computer is fit for operation.
Short Message Service (SMS) will send alarm notification to your cellular phone.
Smart Operability
Promises Great User / Operator Comfort
Feel free to contact us for consultation or inquiries regarding these products.
Online Inquiries
Inquiry Form