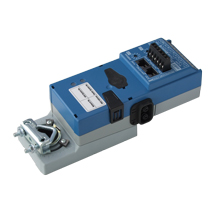 Infilex™VC Variable Air Volume Controller with Actuator
Infilex™VC is a VAV controller with an actuator that communicates via our proprietary protocol, SC-bus, LonTalk® or BACnet MS/TP.

Infilex™VC provides high-performance DDC of VAV unit in a building air-conditioning system. Thus, Infilex VC, networked even within a complicated HVAC system, controls VAV unit.
Besides, Infilex VC offers building owners and operators the flexible and enhanced controls of temperature and VAV for various VAV units.
Infilex VC sends unique energy-saving information to its networked zone controller, enhancing overall controllability of a building management system.
DDC: Direct digital control
HVAC: Heating, ventilation, and air conditioning
VAV: Variable air volume
Feel free to contact us for consultation or inquiries regarding these products.
Online Inquiries
Inquiry Form