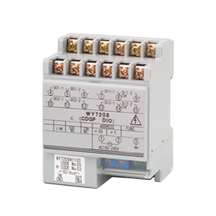 Compact Data Gathering Panel
Compact Data Gathering Panel (often abbreviated as CDGP) is a terminal transmission device for status/alarm monitoring, ON/OFF operation, and measurement/metering of equipment installed in commercial and other buildings.
One CDGP manages a small number of inputs/outputs (two to eight points), and its compact body fits inside the building distribution panel/power control panel. CDGP is thus suitable for a small- and mid-sized building where the points to monitor are decentralized.
Feel free to contact us for consultation or inquiries regarding these products.
Online Inquiries
Inquiry Form