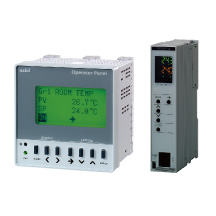 Operator Panel
for Infilex™AC / Infilex GC
/ Infilex GD
Operator Panel is a user terminal for data display and configuration, which can be connected to a remote unit:
Infilex™AC, Infilex GC, or Infilex GD.

Two types of Operator Panel are available. Panel mount type (Model QY5100W0000) is mounted on the door of the control panel cabinet. Integral type (Model QY5100W0000) is attached directly to the remote unit or to its I/O module to integrate with the remote unit.

The Operator Panel can display all the points that the remote unit has. Points to be modified (by changing their data configuration) or operated, such as parameters, AO (analog output), and DO (digital output), can be modified or operated through the Operator Panel.

By connecting the Operator Panel to a remote unit (Infilex™AC, Infilex GC, or Infilex GD), the remote unit can be managed not only through client PC of our BMS (building management system), savic-net™FX, but also through the Operator Panel at the installation site. This greatly improves the efficiency of the building management.

Additionally, the Operator Panel facilitates status indication of the points, and allows a remote unit to be easily used as standalone.
Feel free to contact us for consultation or inquiries regarding these products.
Online Inquiries
Inquiry Form