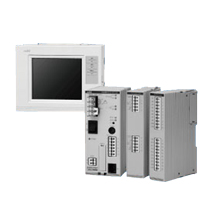 PARAMATRIX™4 Pump/Chiller Controller
PARAMATRIX™4 is a Direct Digital Controller (DDC) specifically designed only for sequential control of heating/cooling units of building HVAC (heating, ventilation, air- conditioning) systems.

Safe and optimized pump or chiller control
In response to the air conditioning load at startup and during operation, PARAMATRIX™4 Controller calculates and operates the optimum number of pumps or chillers.
Even if a pump / chiller fails, the PARAMATRIX 4 will automatically operate another pump / chiller instead of the faulty pump / chiller if necessary. (The PARAMATRIX 4 decides if another (alternate) pump / chiller needs to operate in response to the air conditioning load.)
The PARAMATRIX 4 also controls pumps / chillers for power failure and for power failure restoration. Thus the PARAMATRIX 4 offers various controls of the pumps / chillers.
Wide range of energy-saving application by secondary pump VWV control. (Only for Pump Controller)
PARAMATRIX 4 Pump Controller controls bypass valves and pump inverter so that the water supply pressure is maintained at a certain level. For the pump inverter control, energy-saving applications offering the estimated terminal pressure control, the terminal pressure control, etc. are available. These applications enable to reduce the pump speed when the air conditioning load is low.
Easy operation check with optional OI
The optional operator interface (OI) adopts touch panel and color LCD, and thus operability and visibility has widely been improved. A variety of display functions show its operators how the PARAMATRIX 4 has controlled/is controlling/is going to control the pumps / chillers and facilitate complex heating/cooling system management and control.
Compact controller
Small body requires little room in a control panel.
Simple wiring and installation
Screwless push-in terminals facilitate wiring work. PARMATRIX 4 is mounted either with screws or on DIN rail.
Integral or standalone management
PARAMATRIX 4 serves as a standalone controller as well as a controller integrated into our BMS. Besides, PARAMATRIX 4 in combination with PARACONDUCTOR™ enables to visualize operating status and results of energy saving.
PARAMATRIX 4 thus is suitable for standalone control and for various integrated control.
CE Marking certified product
Model WY5130P / WY5130Q conforms to all the applicable standards of CE Marking.
Feel free to contact us for consultation or inquiries regarding these products.
Online Inquiries
Inquiry Form