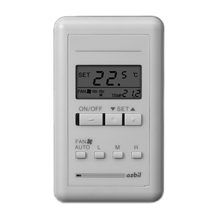 Neopanel
Digital User Terminal for Infilex™ Series Controller
Neopanel is a digital user terminal for the controllers such as
Infilex™FC, Infilex VC, and Infilex AC.

Neopanel has a temperature sensing element built-in and functions as a sensor and a remote controller. In addition to ON/OFF control, temperature setting, and other controls of air conditioning equipment, Neopanel shows the outdoor air temperature and the wet weather indication on its display. Besides, preset time schedule can be changed (extended) through Neopanel so that air conditioning does not stop during your overtime work in the office.
Thin and flat design is adopted for Neopanel that requires a little mounting space.
The built-in sensor with optional Thermoplate (Model QY7205Z0000) reduces effects of conditions in which Neopanel measures the temperature.
Feel free to contact us for consultation or inquiries regarding these products.
Online Inquiries
Inquiry Form