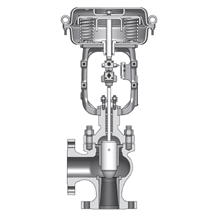 Angle Valves
Angle valves are structured so that the center lines of the entrance and exit of the fluid intersect perpendicularly. In general, the horizontal line is the entrance and the vertical line is the exit.
This structure allows the fluids commonly known as slurry (i.e. viscous fluids and fluids including solid bodies) to pass more easily through the valve, making it suitable for controlling them. Additionally, it prevents the valve from being damaged due to fluid cavitation and flashing, making it suitable for fluids with these conditions.
This valve type is mainly adopted to solve problems that are difficult to address with general-purpose valves. Therefore, we can apply various materials (e.g., ceramic and cemented carbide) to the trim parts and its peripheral parts in order to handle special needs.
KEY SPECIFICATIONS
Internal diameter: 3/4" to 6" (please inquire regarding manufacture of larger sizes)
Pressure rating: JIS 10K to 40K, JPI 150 to 2500, ANSI 150 to 2500
Temperature range: 0 to 425 °C
Materials: Carbon steel, Cr-Mo steel, stainless steel, etc.
Actuators: Pneumatic diaphragm motor, piston cylinder, electric motor
Accessories: Positioner, limit switch, solenoid valve, etc.
For detailed information, please refer to the spec sheet for the individual model.
Feel free to contact us for consultation or inquiries regarding these products.
Online Inquiries
Inquiry Form