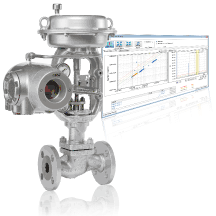 Control Valve Maintenance Support System
PLUG-IN Valstaff


PLUG-IN Valstaff is a control valve maintenance support system designed to perform online trend monitoring of diagnostic parameters for Azbil Corporation's smart valve positioners during plant operation. The system detects irregularities in control valves and positioners at an early stage to minimize problems, and provides visualization of information that is necessary for decision-making with regard to control valve maintenance, thereby facilitating efficient maintenance work.
PLUG-IN Valstaff monitors diagnostic parameters of control valves around the clock, 365 days a year by communicating with smart valve positioners compatible with FOUNDATION Fieldbus or the HART communications protocol. The diagnostic data helps detect control valve failures and facilitates preventive measures for any problems caused by such failures. In this manner, the system ensures continuous operation of the plant in a safe and reliable manner.
In addition, PLUG-IN Valstaff supports swift and accurate startup by automating both step response testing and the adjustment of the positioner according to the characteristics of the control valve. Moreover, the system facilitates optimized maintenance planning according to the extent of deterioration and the overhaul of control valves by providing indicators of their condition based on the diagnostic data obtained during operation and the step response testing conducted after shutdown.

PLUG-IN Valstaff works with Azbil's device management system (InnovativeField Organizer) or PRM® (Plant Resource Manager), an integrated device management package developed by Yokogawa Electric Corporation.
Feel free to contact us for consultation or inquiries regarding these products.
Online Inquiries
Inquiry Form