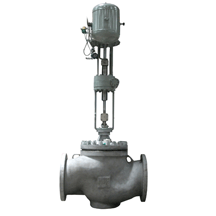 D1 Series manufactured
by Azbil Saudi Limited
D1 series globe-style control valves are suitable for general-purpose use in various process applications in industries such as refining, petrochemical, chemical, and so forth.
Easy selection from a variety of body materials
Various ASTM(American Society for Testing and Materials) materials have been standardized for convenient selection.
Super duplex stainless steel materials are also available.
Easy operation with rugged actuator
Our largest double-acting actuator will produce over 16 tons of thrust at 6 bar operating air pressure.
Easy maintenance with simple structure
No special tools are required for implementing stack cage design in cage-guided control valves.
Feel free to contact us for consultation or inquiries regarding these products.
Online Inquiries
Inquiry Form