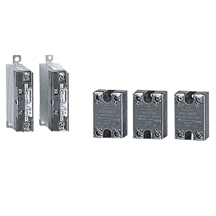 Solid State Relays
Model PGM10N/PGM10F


CE (PGM10F only), TUV (PGM10F only)
The PGM10N and PGM10F are solid state relays with zero cross function for use with single-phase power supplies. Used in combination with a time proportional voltage pulse output controller or the like, these relays facilitate heating control.
Two main model types to fit the application
Models without a heat sink (PGM10N) and models with a built-in heat sink (PGM10F) are available.
Easy installation
All models without a heat sink (15 A, 25 A, and 45 A) have standardized installation pitches and external dimensions. Models with a built-in heat sink can be installed on a DIN rail.
Small footprint
Models with a built-in heat sink are thin and can be installed in close contact, making them very useful where space is tight.
Fully equipped
All models include a terminal cover and operation indicators as standard equipment, and have a built-in varistor.
Easy connection
A wide range of voltage is acceptable for the input signal. Relays can be easily connected to Azbil controllers.
Feel free to contact us for consultation or inquiries regarding these products.
Online Inquiries
Inquiry Form