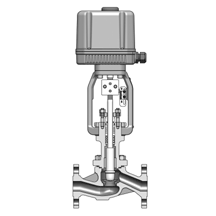 Electric Valves
KEY SPECIFICATIONS
Size: 1/2" to 8"
Pressure rating: JIS10K to 40K, JPI 150 to 600, ANSI 150 to 600
Temperature range: -196 to 425 °C
Materials: Carbon steel, Cr-Mo steel, stainless steel, etc.
Actuator: Electric motor
For detailed information, please refer to the specifications sheet for the individual model.
Various body material specifications available
Valves have bodies made of carbon steel for general-use applications like controlling water, steam, and fuel oil, etc., or made of highly corrosion-resistant stainless steel, resin material, etc., as needed for corrosive fluids.
No instrumentation equipment air source required
Valves are suitable for use in various types of equipment without an instrumentation equipment air facility or air conditioning.
Drip-proof structure
The drip-proof structure is equivalent to NEMA4X, IP65.
Motor protection mechanism
Valves are equipped with a thermal protector to prevent motor burnout.
Operational status monitoring
Feedback is available via 4-20 mA analog standard signal, contact signal, and resistance output.
Excellent seat leakage performance
Soft seat tight shutoff (ANSI class VI) is available.
High controllability
The valves offer wide rangeability.
Feel free to contact us for consultation or inquiries regarding these products.
Online Inquiries
Inquiry Form