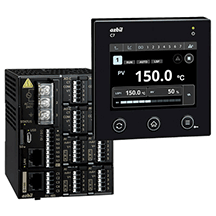 Multi-Loop Controller with Multifunction Display
Model C7G



UL(US,CA)
Value is maximized by seamless coordination with other equipment
Comes standard with two communication ports
Both Ethernet and RS-485 support is a standard feature. With high-speed (Ethernet) communication and serial (RS-485) communication, a high degree of flexibility is ensured for equipment-internal instrumentation networks and controller-controller instrumentation networks.

PLC link function
The PLC link function utilizes Ethernet to exchange data with a Mitsubishi Electric PLC (MC Protocol / SLMP) or communication converter(gateway)-less/programming-less controller.

Feel free to contact us for consultation or inquiries regarding these products.
Online Inquiries
Inquiry Form