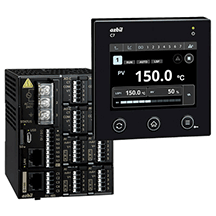 Multi-Loop Controller with Multifunction Display
Model C7G



UL(US,CA)
A diversity of built-in functions
High-speed control
Up to 4 loops can be controlled at speeds of up to 10 ms. Ideal for heater control and other high-gain processes that require high-speed control.
Pattern operation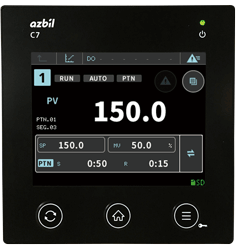 The C7G/C7S are equipped with pattern operation functions. The same pattern operation can be used for up to 4 loops, or individual patterns operations can be executed. Functions that are needed for pattern operations, like PV start and guaranteed soak, are of course available.
Overview of pattern operation specifications
Item
Function
Number of patterns and segments
16 patterns, 16 segments per pattern
Segment setting method
Set by set point (SP) and time
Time units
0.01 s, 0.1 s, 1 s, 1 min
Operation modes
Pattern operation (Pattern SP)
↔ Constant-value operation (LSP/RSP)
Pattern operation functions
HOLD, Guaranteed soak (start and end points), PV start, Advance,
Cyclic operation, Pattern link, Operation end state (READY, END,
constant-value operation), Pattern SP change limits (high and low limits)
Event functions
Segment events 1 to 16
Host communication
Pattern settings and segment settings can be read and write.
Diagram of pattern operation

The controller displays and records changes in heater resistance to show the heater's condition.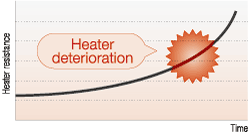 Heater voltage and current is measurable from the voltage transformer (VT) input and current transformer (CT) input and is displayed as RMS values. Based on the values measured for VT input and CT input, heater resistance can be calculated, monitored (displayed/transmitted), and recorded.* The state of a heater whose resistance characteristics vary depending on the temperature environment is easier to know by recording* the resistance together with the temperature control status.
*The controller's CDS (compact data storage) function is used for recording.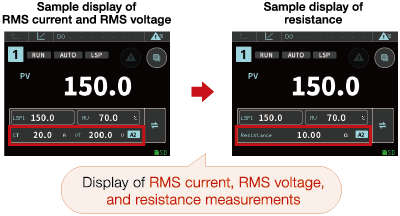 Diagram of pattern operation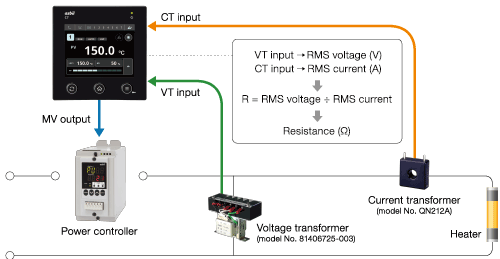 Cascade control
Compatible with internal cascade control functions. Especially effective for large-scale process control with slow dynamics.
Broken-line approximation
Equipped with broken-line approximation function for input and output. Controllability is improved by utilizing this feature for functions such as non-linear sensor output and output tohigh-gain actuators.
Fixed-value output
Useful when fixed control output appropriate for the process equipment characteristics is preferable to outputting the results of PID calculation. Sample uses: preheating while on standby, or when opening/closing the equipment door.
Display unit settings
The display can show, separately for each loop, the units of measurement desired for the application.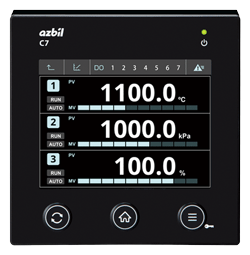 Feel free to contact us for consultation or inquiries regarding these products.
Online Inquiries
Inquiry Form