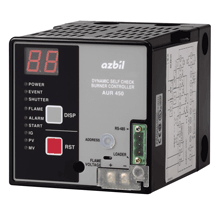 Dynamic Self-Checking Burner Controller
Model AUR450C


The Dynamic Self-Checking Burner Controller model AUR450C is a flame safeguard controller for batch or continuous operation.
In combination with the Advanced Ultraviolet Flame Detector model AUD300C or the Explosion-Proof Advanced Ultraviolet Flame Detector model AUD500C, it safely and automatically ignites and monitors a gas or oil burner using the correct sequence of steps.
This device monitors combustion while continuously checking the model AUD300C/500C tube unit and the flame detection circuits by driving the shutter of the model AUD300C/500C. For routine maintenance, or if a problem occurs, the front of the model AUR450C has a helpful 7-segment display, and the device is equipped with a communications function.
The 7-segment display shows flame voltage, sequence codes, and alarm codes. Using the Smart Loader Package for the model AUR450C, the system status before an alarm occurred can be checked, including data such as flame voltage, past alarm history, operation time, and number of combustion starts.
Compliance with global safety standards
This device has received the following certifications.
Gas Appliance Directive (CE) : 0063BS1427
Underwriters Laboratories Inc. : File No. MH27717
Selectable ignition sequence
Either a 4-second or 8-second pilot ignition trial time is selectable by model number. Equipped for both intermittent and interrupted pilot, selectable by output terminal.
Easy instrumentation and handling
Compact design requires less mounting space than conventional models. Wiring attaches to the subbase, so mounting and dismounting the controller is easy. Flame monitor output and alarm output contacts can be used as independent non-voltage contacts.
There is an input terminal for remote reset, or reset can be done from the operating panel.
Includes a variety of display functions
The LED indicators, which are especially useful for maintenance and troubleshooting, can be used to check the progress of the ignition sequence, as well as the status of flame detection, alarms, and events. The flame LED changes color (green/orange/red) depending on the flame voltage level.
On the 7-segment display, sequence codes, alarm codes, and event codes can be checked.
Feel free to contact us for consultation or inquiries regarding these products.
Online Inquiries
Inquiry Form