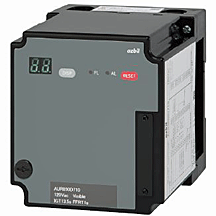 Burner Controller
Model AUR890

AUR890 burner controllers were developed as an upgrade for the RA890 burner controller, and are designed for batch operation of combustion equipment (at least one start and stop in a 24-hour period).
This device is used in combination with an AUD100 series Advanced Ultraviolet Flame Detector or a flame rod.
For combustion equipment that operates continually for 24 hours or longer, use a burner controller designed for continuous operation instead of this device.
This device is structured for external instrumentation of the prepurge function. It automatically ignites the pilot and main burners and monitors the flame. In addition, when flame failure occurs, this device locks out the combustion equipment.
7-segment display for sequence codes and alarm codes.
LED indicators show whether there is a flame signal and whether lockout is present.
The product is designed so that it cannot be restarted in the case of lockout due to ignition failure, false flame or other causes, unless it is reset manually.
If there is a false flame signal during startup, the controller will be locked out.
It is possible to output the operational status to external devices. Alarms can be reset by an input signal (contact input).
Perform fault diagnosis for the internal control relay circuit.
DIN rail mounting and sub-base structure for easy installation and replacement.
A base unit, Q890A100, is available for use when replacing the RA890.
Attach the cables that were connected to the Q270A1024 sub-base of the RA890 to the new base unit.
The terminals have the same numbers to facilitate upgrading from RA890 to AUR890.
Feel free to contact us for consultation or inquiries regarding these products.
Online Inquiries
Inquiry Form