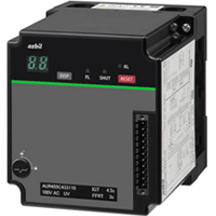 Dynamic Self-Checking Burner Controller
Model AUR455

Model AUR455 dynamic self-checking burner controller can be used for both continuous operation and batch operation. It is a combustion safety controller that follows the correct ignition sequence to automatically and safely ignite gas burners and oil burners. This device can be used in combination with model AUD300C advanced ultraviolet flame detector, model AUD500C explosion-proof advanced ultraviolet flame detector, or a flame rod. Model AUR455 drives the shutter that is built into model AUD300C / AUD500C to continuously check both its own flame detection circuit and the ultraviolet detector in order to provide flame detection for continuous burner operation.
Also, when used with a flame rod,model AUR455 continuously checks its own built-in flame detection circuit to provide flame detection for continuous burner operation.
The front connector provides a communication function and event output that are convenient for maintenance and troubleshooting. Note particularly that the PC loader can read out various kinds of data recorded in model AUR455 using the RS-485 communications protocol.
Additionally,the front 7-segment display shows the flame voltage and the current operating status. When an alarm is activated, the display indicates an operating status and an alarm code so that the details can be checked easily.
Safety standard certification
EN 298
Selectable ignition sequence
The pilot ignition time can be selected from 4s or 8s.
The ignition method can be selected from intermittent pilot and interrupted pilot.
Ease of instrumentation and handling
Designed for compactness, so requires little installation space.
Wires connect to the sub-base, so the unit is easy to install / remove.
Flame monitor and alarm output contacts are available as independent non-voltage contacts.
There is a terminal for external reset input.
This device can be reset from the operation panel.

Multifunction display

The 7-segment display is useful for maintenance and troubleshooting, helping to identify the progress of operations, alarm codes, and event codes.
In addition, flame detection and alarm activation can be checked visually with LED indicators.



Feel free to contact us for consultation or inquiries regarding these products.
Online Inquiries
Inquiry Form