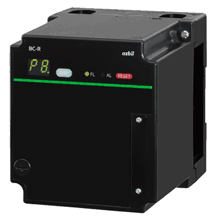 Burner Controllers
Model BC-R15/BC-R25/BC-R35
The BC-R15/25/35 features combustion safety burner controllers used exclusively for batch operation (for combustion equipment that shuts down at least once per 24-hour period).
These burner controllers automatically and safely handle ignition, flame monitoring, and fuel cutoff for proportionally controlled oil or gas burners. In addition, they are equipped with a 7-segment display and trial-operation mode which are helpful for maintenance and adjustment work.
With a host communication (RS-485) function and Smart Loader Package, detailed operation monitoring and troubleshooting are possible (BC-R25/35 only).
Safe
Compliant with JIS standards (which conform to international standards)
Appropriate prepurge and ignition timing is provided in compliance with JIS B 8407 2012 ("Forced Draft Burners") and JIS B 8415 2008 ("General Safety Code for Industrial Combustion Furnaces"), ensuring the safety of combustion equipment and combustion facilities.
Easy to See
Combustion sequence and alarm information can be seen on the main panel.
The combustion sequence is shown on the 7-segment display. The flame voltage can be seen by pressing the DISP switch. When there is an alarm, the alarm code is shown on the 7-segment display along with the combustion sequence. Alarm details can also be displayed.
Easy to Understand
Operating state of the burner controller can be ascertained at a glance
The monitor output distinguishes between ignition failure and flame-out, so the alarm situation can be easily understood.
Easy to Use
Burner adjustment is easy to do in trial-operation mode
Monitor output can be forced for easy checking of control panel indicators and wiring. By setting the control motor to forced full open or full closed, the high fire and low fire positions can be adjusted, and air flow volume can be checked (BC-R35 only).
Feel free to contact us for consultation or inquiries regarding these products.
Online Inquiries
Inquiry Form