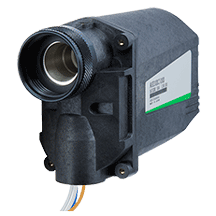 Advanced Ultraviolet Flame Detector
Model AUD300C


Model AUD300C1000 Advanced UV Sensor detects the ultraviolet radiation emitted by the flame of an oil or gas burner.
When the sensor is used together with the specially designed model AUR355 or model AUR455, advanced UV relay, highly reliable flame safety control is achieved by driving the sensor's built-in shutter to dynamically check that the UV sensor and UV relay are operating properly.
Parts replacement and maintenance are easy because parts like the tube unit and shutter unit are handled as modular units.
There are fewer constraints on burner mounting location because the detector is designed to be small and light in comparison with other self-checking flame sensors.
Highly resistant to harsh environments, can be used in ambient temperatures up to 100 °C, IP66 compliant, can be mounted vertically, and can be used with wiring up to 200 m long.
Feel free to contact us for consultation or inquiries regarding these products.
Online Inquiries
Inquiry Form