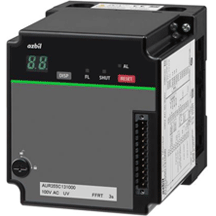 Dynamic Self-Checking Flame Monitor
Model AUR355
Model AUR355 flame monitor (hereafter "this device") is a combustion safety device that performs self-checking of its built-in flame detection circuit continuously to ensure safety. This device can be used in combination with the model AUD300C advanced ultraviolet flame detector, model AUD500C explosion-proof advanced ultraviolet flame detector,or a flame rod.
Safety standard certification (pending)
SIL 3
Ease of instrumentation and handling
Designed for compactness, so requires little installation space. Wires connect to the sub-base, so the unit is easy to install / remove. Flame monitor and alarm output contacts are available as independent nonvoltage contacts. There is a terminal for external reset input. This device can be reset from the operation panel.
Multifunction display
The 7-segment display is useful for maintenance and troubleshooting, helping to identify the progress of operations, alarm codes, and event codes. In addition, flame detection and alarm activation can be checked visually with LED indicators.
Feel free to contact us for consultation or inquiries regarding these products.
Online Inquiries
Inquiry Form