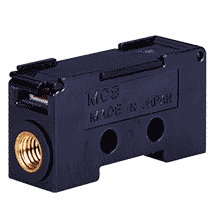 Mass Flow Sensor
Model MCS100

The model MCS100 is a compact and fast response mass flow sensor created from original MEMS sensor technology with millions of shipments.
By combining a thermal MEMS sensor and a low pressure loss flow path, this flow sensor can measure Air, Nitrogen and Oxygen* flow under 10L/min with 5ms fast response, which can also detect flow direction or slight flow rate changes.
* Fluid conditions for use with Oxygen : supply pressure 50 kPa or less, concentration 95% or less.
Products Introduction Video
Feel free to contact us for consultation or inquiries regarding these products.
Online Inquiries
Inquiry Form