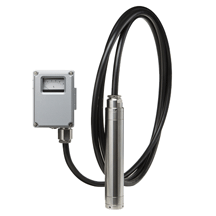 Immersion Type Liquid Level Transmitter
Model JTL32_/JTL33_
The immersion type liquid level transmitter is a high-precision pressure-based liquid level transmitter that is installed by simply immersing it. Pressure is detected by a compound semiconductor sensor with a proven track record for excellent reproducibility and stability.
No Installation Necessary
Installation of the level transmitter is achieved by simply submerging it in the liquid to be measured. It is ideal for reservoirs, sludge tanks, raw sewage tanks, dams, rivers or sea water inlets.
Wide Measuring Range
Two different models cover a wide measuring range of 0 to 70 meters of liquid depth.
No AC Power Supply Needed
Driven solely by a DC power source, the level transmitter saves on costly cabling and installation.
Lightning Protection
Each detector, junction box and power supply cabinet includes a lightning arrester as standard equipment. It can be used safely where thunder-storms are frequent.
Feel free to contact us for consultation or inquiries regarding these products.
Online Inquiries
Inquiry Form