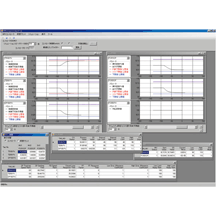 Advanced Process Control Solutions
The SORTiA Series is a suite of advanced process control solutions whose development was based on the expertise in process control amassed by Azbil at various work sites, its research on control technologies, and its own unique proprietary technology.
The SORTiA Series provides not only freely defined data collection, history storage, process support calculations, and soft-sensor functions, but also builds a multivariable control system that uses those functions in order to stabilize and optimize continuous process equipment operations and further increase equipment earning power.
SORTiA series configuration

Instead of a licensing fee system, SORTiA employs a pay-as-you-go yearly fee system to save initial introduction costs, and so can be applied even to small to mid-scale processes.
Open-system configuration is not dependent on any existing basic control system, allowing SORTiA to be used by customers who are not using Azbil Corporation's DCS.
Azbil's nationwide and worldwide networks quickly provide service when needed.
Feel free to contact us for consultation or inquiries regarding these products.
Online Inquiries
Inquiry Form