BatchSuite™ is a batch production process automation software package that operates on the Harmonas-DEO™ system. It is compliant with ISA S88.01 and JIS C 1807, which are international standards related to batch-based production. In the manufacturing industry, which has shifted to multiproduct variable-quantity production of high-value-added items in recent years, it is essential to develop an execution control system that supplements complex production procedure control in batch-based production. BatchSuite enables easy development of a batch system in a graphical and configuration-based manner.
Compliance with batch production standards S88.01 and JIS C 1807
Batch production facilities are operated for multiple purposes as seen, for example, in multiproduct variable-quantity production, and therefore it is very challenging to integrate batch production management (such as brand/recipe management and schedule management) with a batch operation automation system.
BatchSuite is a solution not only for batch control but also for production management, based on a batch process automation model which reflects the hierarchical and modularized structure proposed by ISA S88.01 and JIS C 1807 as well as the batch production model proposed by ISA S95.01.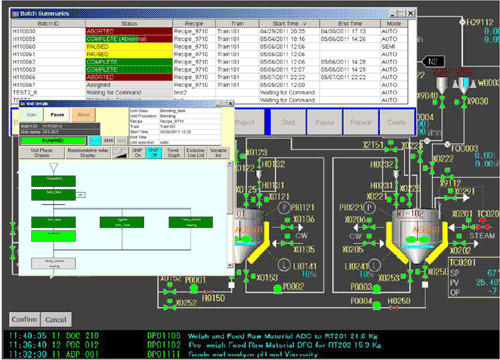 Sample Screen
Feel free to contact us for consultation or inquiries regarding these products.
Online Inquiries
Inquiry Form