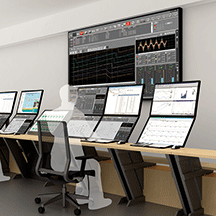 Harmonized Automation System Harmonas-DEO™
Harmonas-DEO is a next-generation operation monitoring and control system that serves as the nerve center for data-driven smart factories in the age of IoT. Through links to Azbil's proprietary online malfunction-prediction system, which makes use of AI (artificial intelligence), and to a system for utilizing monitoring and diagnostic data from individual smart devices, Harmonas-DEO provides data-based monitoring.
In addition, the enhanced operability and visibility of the human-machine interface (HMI) during operation monitoring promotes safer and more reliable operation.
Feel free to contact us for consultation or inquiries regarding these products.
Online Inquiries
Inquiry Form