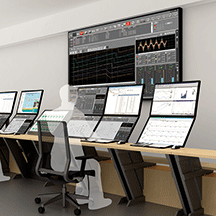 Harmonized Automation System Harmonas-DEO™
BatchSuite is a batch-management application package fully compliant with ISA SP88. BatchSuite's function modules correspond to the hierarchical structure of the batch process itself, and can be combined to build management functions. Because it is able to flexibly respond to changes in process procedures and recipes, BatchSuite quickly handles changes in the production environment.
PREXION automatically collects process data and manufacturing data from various monitoring and control systems in plants and factories, ensures long-term storage of the collected history data, and provides an open environment for managing manufacturing information. Data collected and accumulated by ePREXION can be easily used on networked PCs in various departments, affording an accurate understanding of operation and production status.
Knowledge Power is an operation support software package that systematizes and standardizes procedures, including irregular operations such as brand switching and manual operator tasks that are described in standard operating procedures such as those used to restore normal operation after problems occur.
Knowledge Power also enables the automation not only of tasks such as valve position setting and pump start/stop operations, but also of the procedures and methods used by skilled operators for early-stage discovery of abnormal operating symptoms, facility monitoring, and checking for optimal operation.
Feel free to contact us for consultation or inquiries regarding these products.
Online Inquiries
Inquiry Form