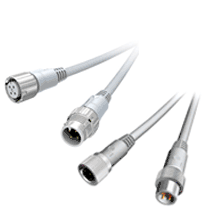 Connector with Cables

(Excluding PA5)
PA7 Series
Designed to make connections more secure and to reduce wiring man-hours, these quick-lock connectors fit together in a snap.
Connect by simply rotating the lock ring 1/8 of a turn
No risk of uneven tightening by workers or loose connections caused by vibration, etc.
Compatible with conventional M12 screw connectors
Clicking sound indicates that the connection has been made.
The cable (CM) complies with the NFPA 79 standard.
PA5 Series
A wide variety of connector specifications is available for various operating environments.
PA5-**SK series: the standard model, compliant with the NFPA 79 standard
PA5-**CK series: high resistance to oil, for places where coolant may be spilled
PA5-**WK series: high resistance to flame, for exposure to welding spatter
PA5-**RK series: high resistance to vibration, for use with mechanical devices
Feel free to contact us for consultation or inquiries regarding these products.
Online Inquiries
Inquiry Form