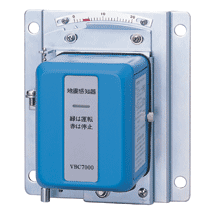 Seismic Detector
Model VBC7000
The VBC7000 Seismic Detector can be installed on general industrial equipment and business equipment and is used to prevent secondary disasters by sounding alarms, preventing leaks of hazardous gas, and executing emergency shutdown of equipment when an earthquake occurs.
Detects earthquake motion only
This product is designed so that it is unlikely to be activated by vibration from vehicles or machines, so there are few false alarms.
Easy-to-understand indications
When activated by an earthquake, the color of the indicator window changes from green to red.
Selectable horizontal acceleration
It is possible to specify the horizontal acceleration in 15 steps between 12 and 250 gal.
Detects both horizontal and vertical vibration
Feel free to contact us for consultation or inquiries regarding these products.
Online Inquiries
Inquiry Form