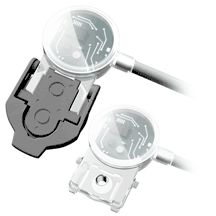 Wet Process Switches and Optical Fiber Units




(Refer to the product lineup page.)
(S: For product details, contact one of our sales representatives or an Azbil dealer.)
These optical fiber sensors are specialized for uses such as the detection of leakage or surface level of chemicals and pure water used in semiconductor and LCD manufacturing processes, detection during wafer mapping, and detection of the dropping of an LED or other very small part.


Using a proprietary optical system, these sensors detect liquid leakage as well as the surface level of pure water or chemicals used for heat treatment, washing, or exposure processes in the manufacturing of semiconductors and liquid crystals. In addition to providing reliable detection, they save space and help to support fail-safe systems.
The optics and housing of the sensor for detecting very small parts like LEDs and of the sensor with a very narrow light beam for wafer mapping are specially designed for these applications. They not only feature a high level of detection performance, but also save space, reduce adjustment workload, and are easy to maintain.
Products Introduction Video Model HPQ-D_ _
Feel free to contact us for consultation or inquiries regarding these products.
Online Inquiries
Inquiry Form