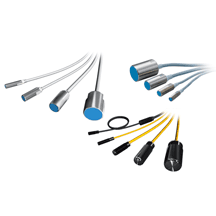 Proximity Switches (Proximity Sensors)



(Refer to the product lineup page)
The DTM for this setup tool (H3Z-DTM-_ _) is software that operates in the FDT frame.
In order to operate an IO-Link USB master from the FDT frame, the DTM for the IO-Link USB master is required.
Install the FDT frame and the IO-Link USB master DTM in advance.
For details, refer to the user's manual for the H3Z-DTM-_ _ setup tool (document No. CP-SP-1452E).
For the system requirements for the tool, see the following.
System requirements for the H3Z-DTM-_ _ setup tool
Item
Description
PC
CPU
Intel Core i5-7200, 2.5GHz or higher
Operating system*1
Japanese version Windows 10 Professional
English version Windows 10 Professional
Memory
8 GB or more
Free storage space
9.6 MB (space required for DTM only)
Display resolution
Full HD (1920 × 1080)
Display color
24-bit RGB
USB port
1 port or more
Other hardware
USB connection cable
Type B
IO-Link USB master
USB-2-IOL-0002 (made by Turck)
Software
· FDT frame application: PACTware
(made by Hans Turck GmbH & Co. KG, FDT frame for device setting)
· USB IO-Link Master DTM: DTM for USB-2-IOL-0002
(made by Hans Turck GmbH & Co. KG, DTM for IO-Link USB master)
· NET Framework: 3.5 SP1
Basic operating environment for the DTM
· Microsoft Chart Controls: 3.5 SP1
Required to use the trend function.
This application is bundled with the DTM installer.
· Adobe Acrobat Reader XI or later
Required to view the PDF user's manual.
If this application is not installed on the PC, download it from the Adobe website and install it.
*1. The performance of the tool cannot be guaranteed if it is used on other operating systems. Execute Windows Update to make sure that
The operation of the tool was checked in the following environment.
| | |
| --- | --- |
| Model | dynabook R73/H |
| Model No. | PR73HEL4447AD11 |
| CPU | Intel Core i5-7200, 2.5GHz |
| Memory | 8 GB |
| SSD | 256 GB |
| Display | 1920 × 1080, 24-bit RGB |
| OS | Windows 10 Pro (64-bit Japanese version) |
| File name | Version | Download |
| --- | --- | --- |
| DTM for H3C-H | 1.0.0 | Download |
| IODD for H3C-H | 1.0.0 | Download |