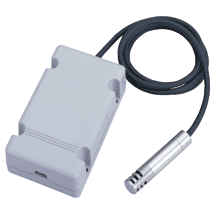 Separate Type Temperature Humidity Sensor
Model HTY7843
The HTY7843 Separate Type Temperature Humidity Sensor is a high-accuracy, high-reliability sensor that employs a Pt 100 platinum RTD (JIS C1604 Class A) as its temperature detection element and a polymer capacitive RH sensor (FP3, developed by Azbil Corporation) as its humidity detection element.
Thanks to its wide measurement range and excellent stability, this product can be installed in air conditioning ducts and chambers for a variety of industrial applications, including outside air measurement.
High-accuracy temperature and humidity measurement across a wide measurement range.
Excellent environmental resistance
Excellent long-term stability
Compact size is made possible by separation of the probe and amplifier, allowing use in small spaces and installation on small devices.
Attaching a separately sold filter to the probe gives it an IP54 dust and water protection structure.
In addition to voltage output of 1-5 V DC, the lineup includes models with a 4-20 mA DC 2-wire current loop.
Feel free to contact us for consultation or inquiries regarding these products.
Online Inquiries
Inquiry Form