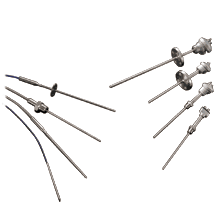 Temperature Sensors
Model YY_ _ _
YY Series Temperature Sensors provide temperature measurements for a variety of applications. The YY Series uses thermocouple and platinum resistance temperature detector elements to meet today's diversifying measurement needs.
Wide variety
Choose the most appropriate temperature sensor for your needs from our lineup, which extends from simple to specialized temperature sensors.
Connections ranging from lead wire to terminal box
Lead wire, exposed terminal, and terminal box types are available to suit the installation environment.
Three shapes to fit the use
Straight, screw-mounted, and flange types are available.
Feel free to contact us for consultation or inquiries regarding these products.
Online Inquiries
Inquiry Form