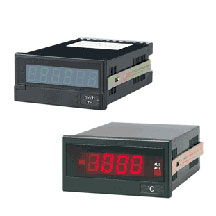 Indicator and integrating meter
The Field-Type Smart Meter (a digital indicator), Field-Type Analog Meter (a current indicator), and Multifunction Panelmeter are used in various applications in combination with a differential pressure or pressure transmitter.
- Field-Type Smart Meter (digital indicator), model No. NWS300
This is a field-mounted indicator that digitally displays the output from a transmitter. It operates only after being connected to the signal from the transmitter and does not require an external power supply.
- Field-Type Analog Meter (current indicator), model No. NWA300
This is a current indicator that displays the analog signal (4–20 mA) from a transmitter.
- Multifunction Panelmeter, model No. PCM***
This panelmeter receives analog output or pulse output from a flowmeter, pressure gauge, photoelectric switch, or other device. It is equipped with a counter function and can display either the instantaneous or the accumulated value on an LED display. Additionally, it has various output functions, a distributor function, and a preset counter function.
Panel-type alarm indicators receive signals from temperature sensors and various transmitters and display and output alarms.
- Universal Alarm Indicator, model No. PCA13***
The Universal Alarm Indicator has a large display and accepts input that can be selected from among thermocouple, resistance temperature detector, and analog DC 1–5 V or 4–20 mA signal. This high-performance and multifunctional alarm indicator has an isolated 4–20 mA DC output proportional to the input and two relay contact points used as alarm output as standard features.
- Smart Indicator, model No. SI***
The smart indicator is a highly reliable, compact DIN-compliant size, light-weight alarm indicator with LED bar graph for process monitoring use.
Feel free to contact us for consultation or inquiries regarding these products.
Online Inquiries
Inquiry Form