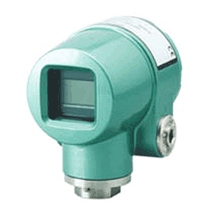 Smart Pressure Transmitters
Model PTG_ _ _



The PTG series pressure sensor is a microprocessor-equipped product with semiconductor pressure sensors. The combination of semiconductor pressure sensors and a microprocessor enables high performance and excellent reliability, in addition to compact size and light weight.
For use in a diverse range of applications, an optional variable range function and built-in digital indicator are available.
Compact, lightweight, and high-performance
This sensor has a highly vibration-resistant, compact design and lightweight body (as little as 900 g) that can be directly attached to pipes. With a high accuracy of ±0.5 % F.S., it can be used in the control and monitoring of process pressures.
Diverse variety of process connection types
The sensor is available with a wide range of process connection types, such as screw (external thread, internal thread, and flush diaphragm), flange, and ferrule (sanitary). This enables process connections to be accommodated flexibly.
Broad range/span setting range
Five models completely cover the measurement span from 2 kPa to 50 MPa, allowing for use in a wide range of applications.
Variable range function (optional)
Any range can be set using CommStaff™. A wide pressure range can be measured with a single model, helping reduce the cost of equipment.

Click here for details on the CommStaff smart communicator
TIIS explosion proof (PTG70* series)
TIIS pressure-resistant oil-immersed type explosion proof Exdo II CT4X certified. It can be used in areas requiring explosion-proof construction.
Click here for HART/Fieldbus solutions
Feel free to contact us for consultation or inquiries regarding these products.
Online Inquiries
Inquiry Form