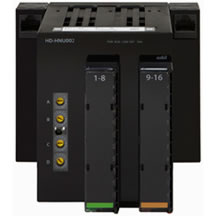 HART Network Unit (HNU) - HART Communication Interface
One-second updates for all points
The HNU uses the HART modem for each communication channel and provides one-second updates for all points by 16-channel simultaneous communication.


Modbus communication*


The HNU also supports the Modbus communication protocol. All data that the HNU collects by the HART protocol can be sent to the DCS and/or PLC through Modbus communication. In this way even a DCS or PLC that does not support HART can receive a HART signal through Modbus, and can realize HART applications such as monitoring the position of a control valve or the temperature of an important transmitter.

*Applies to model numbers HD-HNU002 and HD-HNU002C.

Flexible mounting
HART-compliant interfaces can easily be added to an existing system, thanks to the HNU's use of compact external mounting on a DIN rail. Flexible and scalable mounting for small to large installations is possible by means of blocks of multiple HNUs or HNUs distributed by Ethernet.


Individual isolation between channels
Each channel and the channel to the power supply is isolated individually. Channels do not affect the isolation of the existing loop.
Efficient mounting
Up to 16 HART devices can be connected to one HNU. Devices which need to communicate by HART protocol may be connected to the HNU by means of individual separate wiring. Since dedicated hardware is not necessary for AI or AO, low-cost implementation with a small number of I/O points is possible.