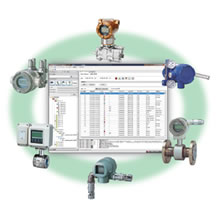 InnovativeField Organizer - Device Management System
Using InnovativeField Organizer, Azbil DCS users can achieve dramatically more efficient instrument maintenance work.
Safe and easy installation using existing azbil DCS (Advanced-PS/TDCS3000, Harmonas-DEO)
Replacement only of base unit IO module with HART-compatible module
No need to upgrade DCS system or change software
Solution for HART's weak point, slow communication
Online trend diagnostics with high-speed communications
At HART's full speed of 1200 bps, high-speed communication almost equal to that of F

OUNDATION

fieldbus is achieved
Configuration and calibration of devices from multiple vendors
Users can configure and calibrate field devices from multiple vendors using IFO.
Control valve maintenance assistance using powerful valve diagnostics
Users can detect control valve abnormalities and use predictive maintenance to find problems before they disrupt plant operation.