Valve Solution Service
Valve maintenance
Specially trained engineers at the maintenance centers Azbil has established for maintaining control valves provide high-quality and high-value-added maintenance services, applying the latest equipment, superior technology, and know-how gained as a manufacturer of valves and related products.

Advantages offered by our maintenance centers
Azbil's five domestic valve maintenance centers at Kashima Sales Office, Chiba Sales Office, Yokkaichi Sales Office, Mizushima Sales Office, and Kawara Technology Center perform valve maintenance for valves anywhere in Japan.
High-quality inspections, maintenance, and repair are offered for products made both by Azbil and by other manufacturers.
If workload is concentrated in a particular region, centers will coordinate and flexibly arrange to supply the necessary specialized engineers, work space, and equipment to swiftly handle maintenance services.
We diagnose and analyze valves with our positioner and diagnosis software to recommend an optimized maintenance plan.
We conduct training for specialized engineers in order to provide our solutions in other countries.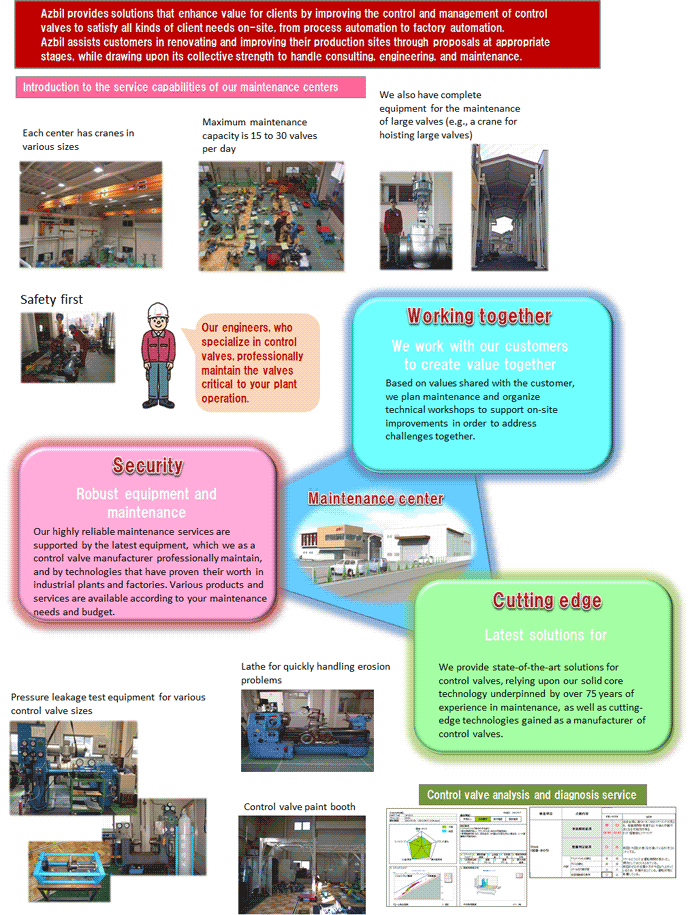 Valve analysis and diagnosis
Specialized engineers analyze various data compiled online to assess the condition of control valves without the need for an overhaul.
Key devices employed for the analysis include the control valve maintenance support system (Valstaff), device management system (InnovativeField Organizer), and smart valve positioner (300 or 700 series).
The results are compiled into an analytical report used to discuss maintenance plans and future measures for achieving more efficient maintenance and optimized life cycle costs, including control valve upgrades.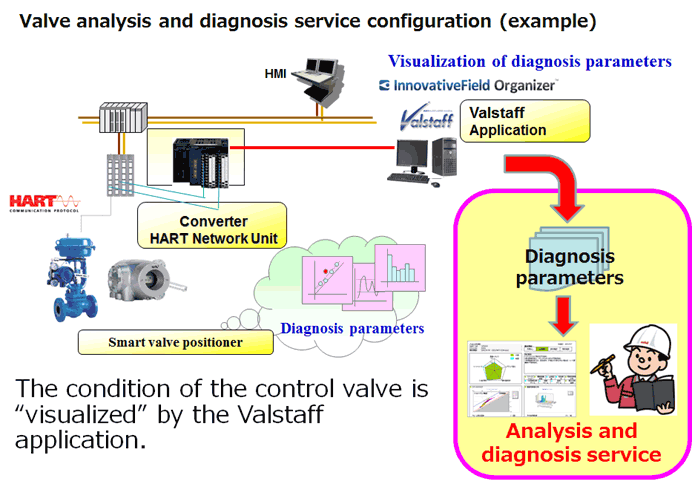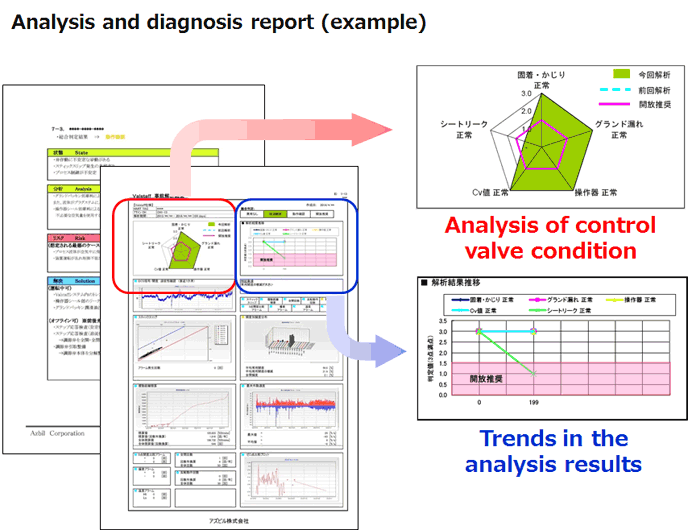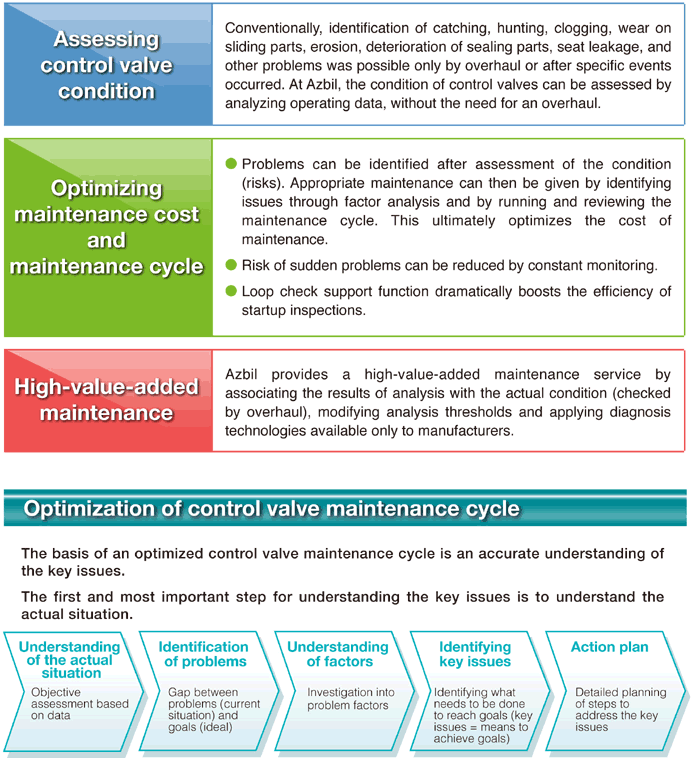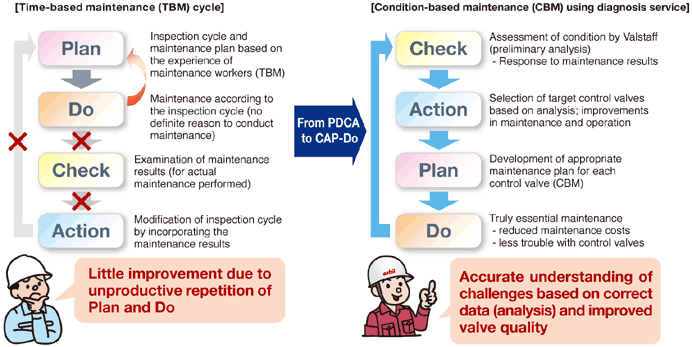 CAP-Do
This improvement cycle is a rearrangement of the PDCA cycle that works by bringing in the step of checking (C) at the very beginning. In contrast to a PDCA cycle, this does not involve difficult initial planning.
Rather than trying to make any improvements, the cycle begins by assessing the current condition, which makes it easier to plan any improvements in response to the current condition. In this manner, the cycle facilitates continuous and practical action to make improvements.
TBM: Time-based maintenance
CBM: Condition-based maintenance
Valve trend management
Our specialized engineers will diagnose control valves used at your site based on their appearance and create a valve diagnosis record in order to assist with your maintenance planning.
In this way, Azbil helps you to prevent problems caused by deteriorating parts in order to maintain safety and reliability.

The service life of a control valve in a manufacturing plant depends significantly on the installation environment and process fluid.
A control valve has an actuator, moving section, and a sliding section that include limited-life parts. The product's service life is represented by a failure rate curve (a "bathtub curve").
Continued use of a control valve whose parts are beginning to experience failure from wear not only shortens the product's service life, but might cause the shutdown of your equipment.
Our valve doctors with specialized skills can visit your site and diagnose your control valves while they are in use.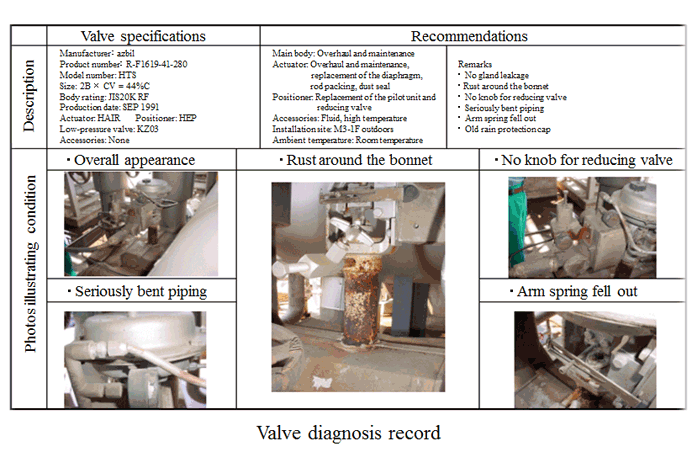 * In information issued before March 2012, there may be cases where the former corporate name is used.