Dx Valve Basic Service

The Dx Valve Basic Service helps to enhance the safety and security of production facilities
The Dx* Valve Basic Service manually collects valve operating data accumulated with the control valve maintenance support system PLUG-IN Valstaff and submits diagnostic reports to customers.
A primary screening diagnosis is done every six months
We receive and analyze operating data accumulated in Valstaff
Note: Fees for detailed diagnosis are charged separately.
* "Dx" is shorthand for "diagnosis" in the medical world.


It is our hope that by knowing about valve health, our customers will always use control valves safely.
Details on the diagnosis
Dx Valve Basic Service provides a valve diagnostic report every six months
Control
valve health
Checked every six months
▶
Understand the overall condition of
relevant valves
Described in report format
▶
Primary screening diagnostic reports
Focus on the valves that need it
▶
Understand their condition using detailed
diagnostic reports (separate fee charged).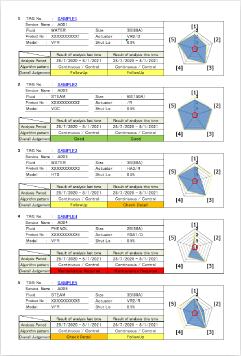 Primary screening report
Radar charts
Radar charts show the results of assessment
for each diagnosed item.
Valve health is rated on a scale of zero to three,
with three being the best.

Contact information for inquiries about the Valve Diagnostics Service